Live Online Training
Advanced Solutions' PILOT program brings the classroom to you. Experience a live instructor delivering Autodesk certified classes conveniently to your computer.View our PILOT Course Schedule
---
PILOT Features & Benefits
Convenient location
No added time or travel expenses
Live and interactive classes
Uses Autodesk official training guides
Instructor can take control of your computer to help with hands-on exercises
Real-time questions about your specific needs
Targeted help relevant to your work projects and workflows
---
How does it work?
We use GoToMeeting® to connect you with your instructor in a virtual classroom. It's simple.
Choose a class from our PILOT Course Schedule and register.
After registering, you'll receive your courseware training manual and a GoToMeeting invitation.
On the day of your scheduled training, logon using your unique GoToMeeting link and you'll be automatically connected.
Enjoy front row access to the instructor's computer screen as you work together through hands on exercises and course material.
At any time, you may ask questions through the live audio connection for an immediate response.
Upon course completion, you'll earn the CEUs/PDHs associated with the course.
Want to know more about PILOT courses?
Check out a free preview of our most popular classes.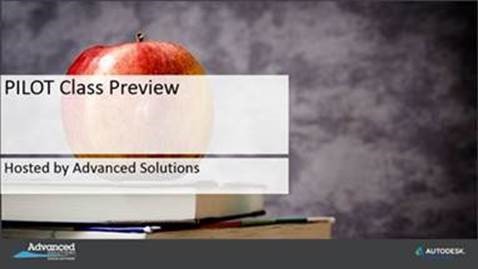 What our customers have to say
"The entire Advanced Solutions staff and support team, has proven to be an invaluable asset to my engineering team. The PILOT program and the on-the-fly tech support that we receive has kept us on top and ahead of the game in an ever changing industry."

Grant K.
"I am very impressed about your online training system. It was the first time for me, I have always attended in-person classes. The only difference that I noticed is that you do not have a person in front of you, which may be a little strange at first, but the teaching effectiveness is the same, plus you do not have to travel! I will choose it for sure the next time I need a class."

Alberto G.
"I enjoyed the AutoCAD Civil 3D PILOT course very much. The instructor was very knowledgeable about Civil3D and just all around smart. As far as the course was concerned, a lot of loose ends were tied up and gaps filled in for me. My previous knowledge of the Civil 3D platform was obtained by hunting and pecking. The quality of the course was superlative."

Mark P.